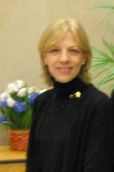 Hi. I'm Michelle Geisert, known by many as "Ms. G." I am an assistant professor at Atlanta Metropolitan College and teach classes in the Social Sciences Division. I joined the AMC family in 1995, and since then, I have also served as a tutor in the Academic Support Center.
In 1992, I received my MA in Sociology (with a cognate in statistics) from the University of North Dakota, and later that year my cats and I escaped from the bitter cold of Minnesota and North Dakota
to arrive in the Atlanta area where I have been doing doctoral studies at Georgia State University.
Along the way, I taught at UND, University of Minnesota, and Georgia Baptist College of Nursing.
August 2005, I attended a conference in Toronto on Women's Issues. While there, I became certified as a Rape Prevention Instructor and I am committed to ending and preventing violence against children and women.
My interests include my "children" (Bud*, Jessica, Orrie*, Baby*, Henry,* and Little One) , advising Phi Theta Kappa International Honor Society, dancing salsa, reading sci fi novels, playing video games, and exploring the beautiful cultures of Atlanta and abroad.
It is with great pleasure I announce the arrival of our newest members, FooFoo and FeeFee Fishees, who joyfully found their way into our home and hearts.
I welcome you to an exciting and sure to be interesting semester.
*It is with great sadness that two beloved members, Henry and Baby, transitioned last week. Henry, our turtle, so loved to talk to us.
Baby, my sweet cat child of 17 years, left us at 8 pm April 13, 2006. Her loving and gentle spirit will be greatly missed and forever in our hearts.
Bud, my dearest of all, left this past May 2006 to run free in the great meadows of heaven.
Orrie, my fiesty cat of 21 years, joined Henry, Baby, and Bud October 19, 2007. He traveled all over the country with me (even flying on airplanes), and wrote a book on "how to catch mice, the art of napping, and other fun things."
I know they are all having a blast!
My thoughts:
Have a love affair with yourself for only then can you also have a love affair with the world. mgeisert 4/6/07
Righteousness is a term one uses to justify their actions. mgeisert 8/1/07
"I believe in the fundamental truth of all great religions of the world. I believe that they are all God-given and I believe that they were necessary for the people to whom these religions were revealed. And I believe that if only we could all of us read the scriptures of the different faiths from the standpoints of the followers of these faiths, we should find that they were at bottom all one and were all helpful to one another."
mahatma gandhi